You might like these books. (Um, if your librarians don't get to them first.)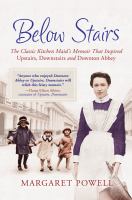 Below Stairs, by Margaret Powell: "The classic kitchen maid's memoir that inspired Upstairs, Downstairs and Downton Abbey."
The FitzOsbornes in Exile, by Michelle Cooper: Sequel to A Brief History of Montmaray.
The Beekeeper's Apprentice, by Laurie R. King: Sherlock Holmes meets his female, teenage match in WWI England.
Of course, we also have Downton Abbey season 1 and season 2 on DVD. And you have until Mar. 6 to stream season 2 on PBS.